Helping Rescued Birds of Prey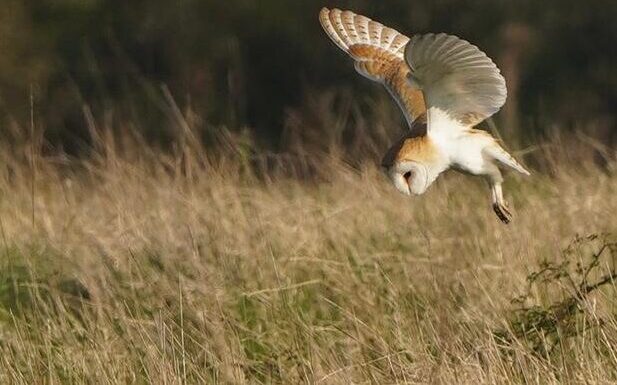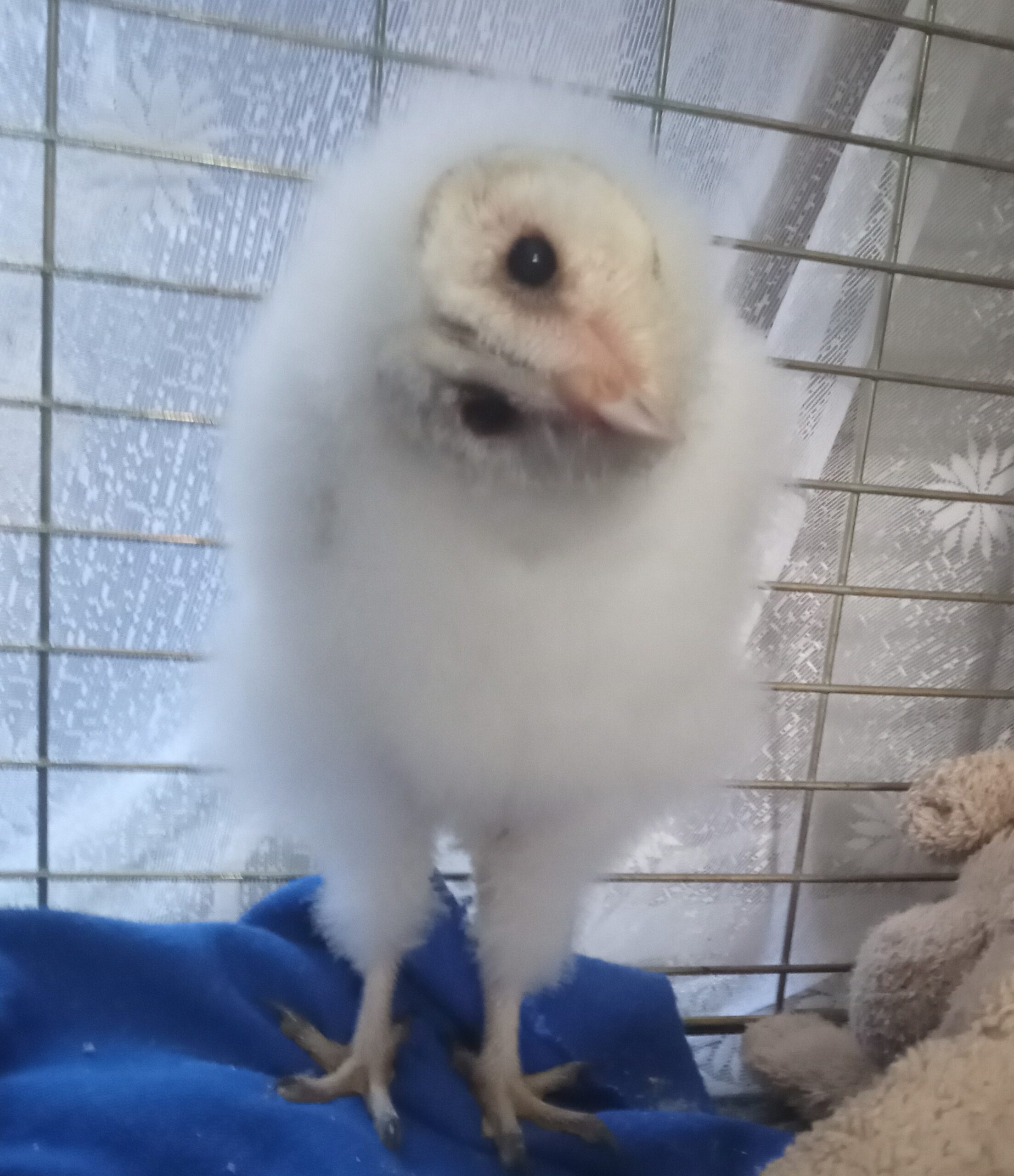 This is Jordan the Barn Owl
She was rescued at two and a half weeks old here at the farm  in July 2022 after she was abandoned by her parents.
She and lots of other injured Owls and Birds of prey need to be released into the wild after being lovingly cared for and nurtured back to health by Stephanie at Owl & Bird of Prey Rescue Essex & Suffolk.
To help the charity we built a 'pre-release aviary' Jordan & Notley arrived after months of care in February 2023 for their final 10 days in captivity before their release into the wild. Once Jordan & Notley have flown it will be used for other rescued birds of prey who need a soft release. Our rewilding field provides lots of easy prey in the form of mice and voles, and the aviary is close to the house making it easy for us to look after them.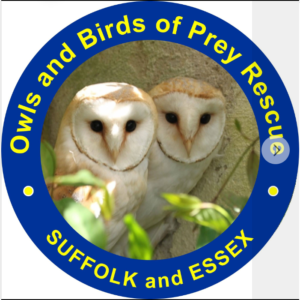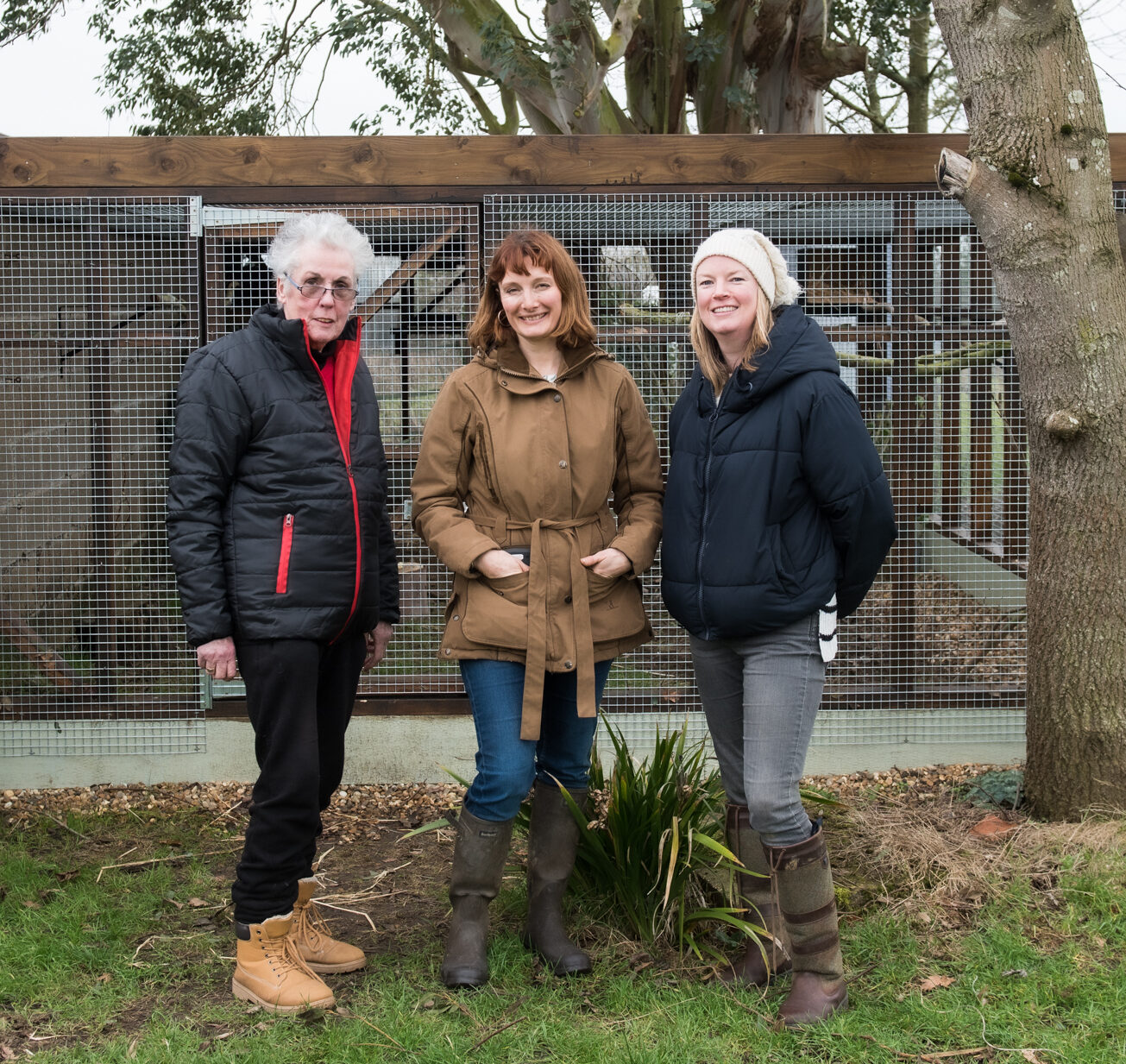 Thank you
To everyone who helped us build and pay for the aviary.
IMG and Alex Green
Hawkins Projects
Rory Appleton Claydon
Colcheco of Colchester
Paul Everett & Patrick Mackenna
Not forgetting Toby & Charlie Buscombe!
Right: Stephanie of Owls & Bird of Prey Rescue Suffolk & Essex, Alex of Jordan's Farm, Alexandra Green of IMG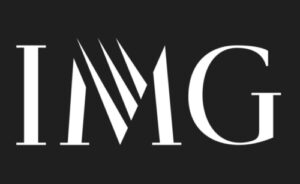 Jordan & Notley's Story in Pictures
First, phone call from Stephanie from the Owl and Bird of Prey Rescue Essex and Suffolk – would I build an pre release aviary to help her rescued birds of prey?
On the 31/07/22, a week later, we had a rescue of our own!  At 140 grams our last remaining Barn Owl owlet was underweight and had not eaten for at least 60 hours. Her parents were no longer visiting the babies. Colin of Colin Shead Photography had been monitoring them with his camera. Without his observations Jordan would have died. So Jordan was taken to Stephanie who took him under her capable wing. It was touch and go but she ate and grew stronger.
In August another Barn Owl Owlet arrived from Notley. This was good news for Jordan, its so much better for them if they can grow up with a sibling.
Jordan & Notley grew together. They lost their baby fluff and grew adults feathers. They started to spend some time outside in Stephanie's smaller aviaries, coming in at night. Meanwhile we started construction.
Notley began to display some great wild behavior, weaving and clicking telling everyone how big and fierce he was. Jordan refused to be caught at the end of the day, giving Stephanie the run around in the dark.
Eventually they fed themselves, picking up and eating a whole chick rather than it being cut up and posted into their beaks! This was a massive mile stone.
The final milestone was the night they refused to be caught to come back inside over night at the end of January 2023. So that was that: outside they stayed. We received the call, was the aviary ready? Well almost, the boxes and perches need to go up but we were practically there!
The date was set for the 16/02/23. Alex from IMG arrived along with Anne Thomas Photography to record the event and quite simply they were released into the aviary. They flipped and flew about before settling in a corner. Their food went out and now they had to spend the next 10 days in the aviary getting used to their surroundings and exercising their wings.
Over the next two weeks they were fed a diet of chick as they exercised their wing muscles  and got used their new surroundings.
On Saturday the 4th of March I popped some fresh chicks in so they could see them and then we opened the door and at some point overnight they few away…….! I admit, the next day I was a littler bereft! BUT READ ON………..
That was not the end of the story. Notley returned for food two nights in a row. Then on the Wednesday after they were released we found him unable to fly in the field near the pre release aviary. My husband flushed him out from under the hedge and I caught him using blanket to toss over him. I was then I was able to peel it back and carefully pick him up. Into the aviary he went and the door was shut. His wing was not right.
Stephanie collected him and whisked him to the vets. 4 smashed wing feathers, he had flown into something. Otherwise he was fine. He now needs time for the feathers to grow back.  Personally I think he knew it was going to snow and decided that 5 start accommodation with room service was preferable for another few weeks!
Mid May and Jordan has been back at the farm for weeks now. He looks fantastic. However, he is now moulting and his wings are lopsided. So despite the fact that the weather is now perfect we can't release an owl if he can only fly in circles. So he remains with us, enjoying the chicks and we think he is being visted by another Owl. Fingers crossed he can be released soon.
Its the end of July and Notley is still here! I think he is fed up, poor boy. I noticed his very long wing feathers were broken and Stephanie came round to check him over. You can see his right wing is not right. The long flight feathers have broken off which is not going to help him hunt. This photo was taken and sent to the brilliant vet at Linkswood. The options: we wait for them to fall out and regrow or give them a little bit of helping hand. The feathers came out.
One more problem. He is not eating properly and he needs to regain weight. We think he is depressed. He is a wild bird and since Jordan went he has no company. So a daily feed of 3 chicks to get him used to having a fully tummy again. Wrapped in a towel he was gentally fed by Stephanie for 4 days, once a day. It did the trick, he began eating more again. Crucial to make those feathers grow!
The 14th of September 2023 and the release door is opened for Notley!
Stephanie called in for an inspection. The 'All clear for take off' was pronounced. The flight feathers were long enough and he was fat enough! So we opened the door. Showed him the open door and he flew off  and hid under his log at the bottom of the avairy!
Two hours later at 6pm I came back to check and there he was sitting in the cherry tree next to the avairy asleep in the evening sunshine. Fantastic. I took a few photos, not wanting to disturb him, wished him luck, (again!) and the next morning he was gone gone. Off to find a new life, a territory, a mate.
He has to survive the winter, quickly learning how to hunt. Food will be left out for him as all other birds who go through the soft release process and we will keep an eye on the camera until we are sure he no longer needs us.
Take care and fly well Notley. It's been a long road to this point, you have a wild life ahead of you, the way it should be.
If you would like to help look after these Owls and the next occupants of the aviary please DONATE HERE
Top tips to help our owls and birds of prey
---

Help! I have found an injured or poorly Owl, Buzzard, Kestral, Kite, Sparrow Hawk!

---

---

Leave the lawnmower in the shed

---

Don't use weed killer or slug pellets.

---