Ghost Ponds Restored
One day in late February 2022….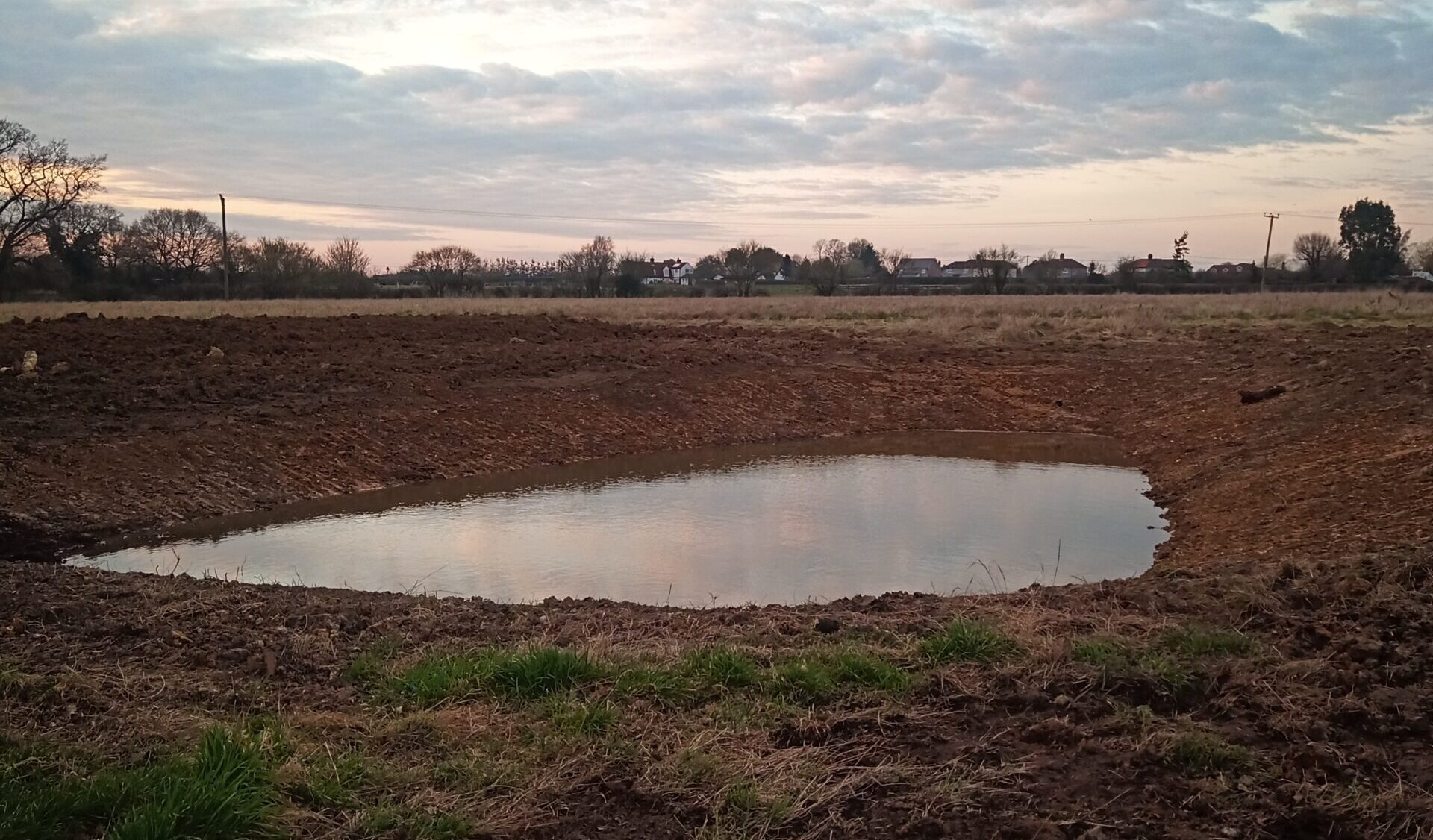 The big digger & Graham arrived and began to dig!
And that's it really. For a week and a half in sunshine and showers he worked. The area of the ponds was set out on the ground, the depth to be a maximum of 1.5 m and each to have a different surface water area. Now we have three ponds!
But it was exciting and so good to be getting them dug and just before spring.
Two are empty. I suspect they will remain so until next winter.  One does have water, but that's because we broke through a field drain. Given that we do not put pesticides on our fields the water will be clean. As a result with the rain we have had since it was dug it is filling nicely and should always have water which is just fantastic. We are on good Essex Clay so no liner is needed. The bottom was instead tracked by the digger to compact it.
The spoil has been spread out a little and some used to create banks facing East / West. Hopefully reptiles will be able to bask in the sunshine on these banks.
I have work to do. Rubbish clearance from the dig, plastic, bottles and bits of metal.  I must also create some hibernacula.  A loose pile of timber and stones covered in soil. In the winter invertebrate and those newts for whom these ponds have been created will find their way to the safety and warmth of these piles and hibernate. Can I emphasise how important it is to leave some untidy areas in your garden over winter and into the spring? Leaves, logs, flower heads,  leave them because our animals need them!
And the soil. Seed it? It looks bear….. Noooooo I won't be doing that.  That soil, now it has been turned, will contain a seed bank. Seeds of plants that have not grown here for many years. I hope that now they will be able to germinate and with less competition from the strong grasses in the rest of the field. So its a wait and see moment. A lot of wilding is. The right plant in the the right place, and frankly nature is better at working this out than me!
Jilly and Alice from the Farming Wildlife and Advisory Group East have been out and checked them. Graham got the thumbs up for his landscaping and the next time we see FWAG will be in June to do the first survey.  Can't wait to see the changes in a few months!